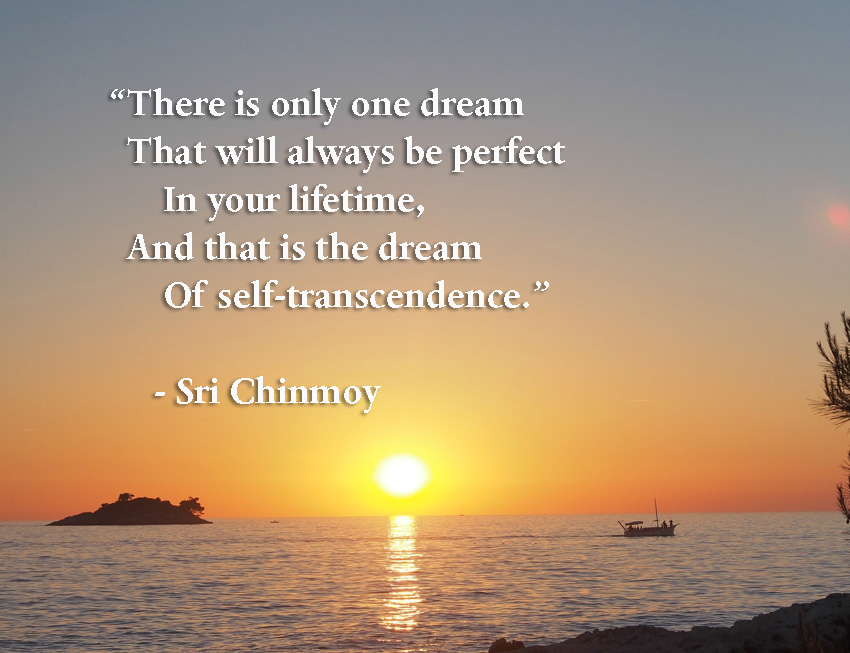 If we believe
In our own
Self-transcendence-task
Then there can be
No unreachable goal.
Continue, continue and continue,
And all the time try to transcend
Your previous limits.
Self-transcendence means
Self-expansion
In every way.
Faith
Sings the song
Of self-transcendence.
Self-transcendence-joy
Unmistakably knows
No equal.
Self-transcendence
Is eagerness
In action.
No matter how many times I fail
I shall not give up,
For my goal
Will not accept
Any defeat.
Spirituality
Is a breathless
Self-transcendence-adventure.
Challenge
All your insurmountable obstacles.
You are bound to succeed.
The determination in your heroic effort
Will permeate your mind and heart
Even after your success or failure
Is long forgotten.
Our philosophy
Is progress.
In our self-transcendence
Is our tremendous joy.
The soul teaches the body
Never to accept
Any limitation.
Individual self-transcendence
Collectively inspires
Humanity at large.
Even
Self-transcendence-attempts
Are most remarkable.
Participation carries the message
Of oneness
And self-transcendence.
Beloved Lord Supreme,
Do You approve of
My self-transcendence song?
"My son, not only do I approve
But it is I who will
Sing in you,
Sing through you
My Eternity's Vision-Reality Song."
Do not ride the mighty waves
Of dark despair
If you want to sit on the unparalleled throne
Of self-transcendence.
A self-transcendence-mind
Has peace.
A oneness-heart
Is peace.
I dearly love
My self-transcendence races.
When you compete with others,
Victory overshadows
Self-transcendence.
I must arrive
At my
Self-transcendence-shore.
"More, ever more! More, ever more!" —
This self-transcendence-song
Is my true philosophy.
God dearly loves
My life's
Self-transcendence-call.
Self-transcendence
Is my
Ever-blossoming goal.
What I needed,
I now have:
A self-transcendence-will.
The pride of the earthly race
And the joy of the Heavenly race
Have the same goal: self-transcendence.
First things first.
You do not have to know
The secret of peace.
You just have to know
The secret of self-transcendence.
Your self-transcendence
Will surround your entire being
With peace.
---
Related
Photo top: Menaka, Sri Chinmoy Centre Galleries
References