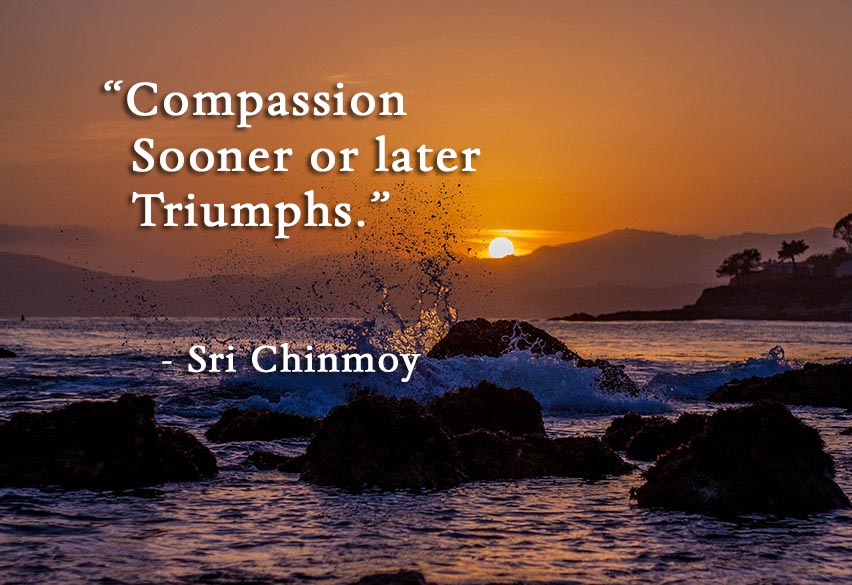 Poems on compassion by Sri Chinmoy
Compassion, compassion.
My earth-compassion
Feeds my sacrifice-flames.
Compassion, compassion.
My Heaven-compassion
Feeds my satisfaction-sun.
Compassion, compassion.
My God-Compassion
Feeds my perfection-goal.
God's Compassion-Eye
Makes me a millionaire.
My happiness-heart
Makes God a multi-millionaire.
God's blessingful Compassion
Is determined to end
Even the last vestige
Of human pride.
My Lord, connect my heart-wings
To Your Compassion-Eye-Light;
I shall fly and fly far beyond
The domain of ignorance-night.
Frustration mounts
When Compassion fades.
Compassion
Sooner or later
Triumphs.
Compassion and justice
Need each other.
Compassion needs justice
For newness-light.
Justice needs compassion
For oneness-delight.
Oneness is complete
Only when compassion
Is infinite.
The Master's feet
Are made of compassion.
Compassion
Is far beyond the domain
Of all laws.
As compassion increases compassion,
Even so
Perfection increases perfection.
A wave of compassion
Powerfully sweeps over
My heart.
Compassion knows
How to divinely build.
Compassion
Is the success-secret
Of the higher world.
---
Other Poems on Compassion
References