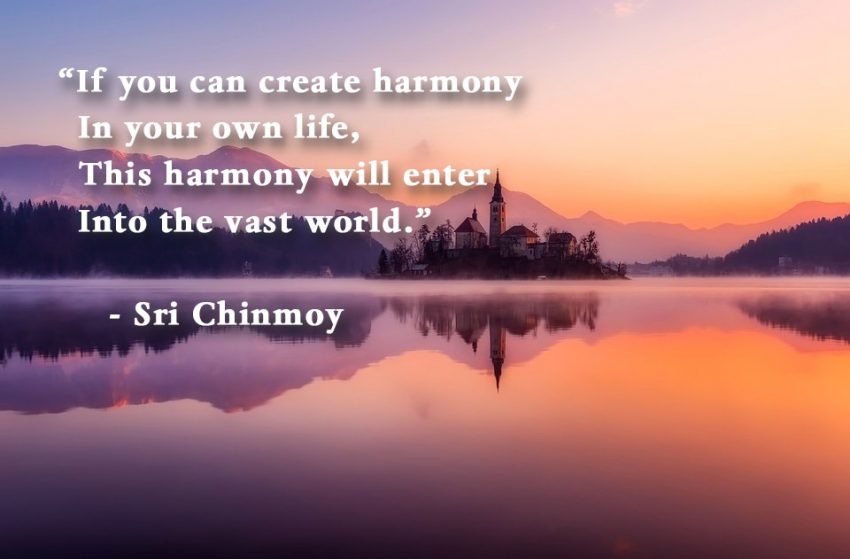 If you can create harmony
In your own life,
This harmony will enter
Into the vast world.
May I treasure
Only those prayers
That stand as champions
Of universal harmony.
Look in the mirror
And what you see in yourself,
Try to see in others.
If you see perfection in your life,
Then see perfection in others.
If you see imperfection in yourself
And forgive yourself for your imperfection,
Then try also to forgive others
Who have the same imperfection.
The experience of oneness
In darkness or light
Brings about harmony.
Harmony shall echo
And re-echo
Throughout the length
And breadth of the world
When each human being
Values the beauty
And divinity
Of self-offering.
As millions of stars
Sing and dance together
In harmony,
Even so, our body,
Vital, mind and heart
Must sing and dance
In harmony.
The present-day world
Is unfortunately
Empty of harmony.
When I am matter-bound,
My world within is chaotic
And
My world without is chaotic.
When I am Spirit-free,
My world within
Is harmony-song
And
My world without
Is harmony-dance.
My earth-life needs
The life of harmony-light.
My Heaven-life inundates my heart
With God's harmony-light
And
His Eternity's Perfection-dream.
Harmony knows no fear anywhere.
Harmony knows only love everywhere.
Silence embodies
The beauty and fragrance
Of harmony.
We all are needed
To establish
A world-harmony-life.
He who has neither bias
Nor prejudice
Is indeed a child
Of Heaven-harmony.
If you develop harmony with all,
Then yours will be a heart
Totally free from sorrow.
References