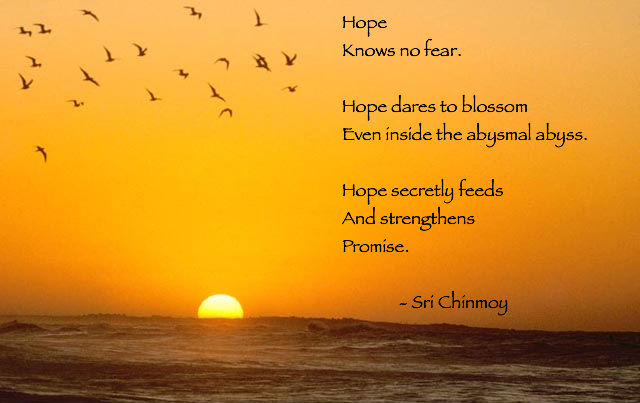 Poems about hope by Sri Chinmoy
Hope abides; therefore I abide.
Countless frustrations have not cowed me.
I am still alive, vibrant with life.
The black cloud will disappear,
The morning sun will appear once again
In all its supernal glory.
Let us not underestimate the power of hope.
No matter how fleeting its life,
It offers to us the most convincing
And fulfilling power.
Hope is not a momentary flicker.
Hope is Eternity's slow, steady,
Illumining and fulfilling height.
Love is hope.
Hope is nectar.
To hope against hope
Can eventually become
A positive reality.
The beauty
Of hope's outer life
And the fragrance
Of hope's inner life
Are keeping humanity sane.
Hope
Is kind.
Therefore
I mix with hope.
Hope
Is swift.
Therefore
I run with hope.
Hope
Is brave.
Therefore
I collect boundless strength
From hope.
Hope
Is sincere.
Therefore
I invite hope
To accompany me
To the Golden Shore.
Hope, my pilot-star, hope
I have seen your face.
I have felt your heart.
Therefore
In ignorance-night
I shall no more grope.
Hope, my pilot-star, hope
You are humanity's peerless rope
For human souls to climb
God's Transcendental Height.
Hope is here,
Hope is there,
Hope is everywhere.
Therefore,
We must live on hope.
I live in the hope of meeting Him.
I live in the hope of loving Him.
I live in the hope of pleasing Him.
I live in the hope of fulfilling
And manifesting Him.
I live, I live.
O my hope
O my hope,
Where are you?
Can you not see me
Inside the despair-grave?
O my hope,
Where are you?
Can you not grant me someday
The helmet of protection
And the crown of satisfaction?
Hope, my hope!
The beauty of hope
Is
Unimaginable.
Hope is sweet.
Hope is illumining.
Hope is fulfilling.
Hope can be everlasting.
Therefore, do not give up hope
Even in the sunset of your life.
Never give up hope!
Hope ultimately succeeds.
Yesterday's failures
Must be forgotten.
Tomorrow's new hope
And new fulfilment
Must be cherished.
Hope is not an idle term.
Hope is the reality that can and does
Reveal itself to us at God's choice hour.
To hope is to know the secret of achievement.
Because there is a hope-flower,
There will definitely be
A hope-fruit.
Just wait and watch.
Hope helps my unbelief.
Hope treasures my belief.
Hope carries my heart's preparation-light.
Hope soars beyond within.
To live on the outskirts of hope
Is not enough.
Cultivate a hope-life
Inside the very breath
Of your moment-to-moment existence.
Related
References