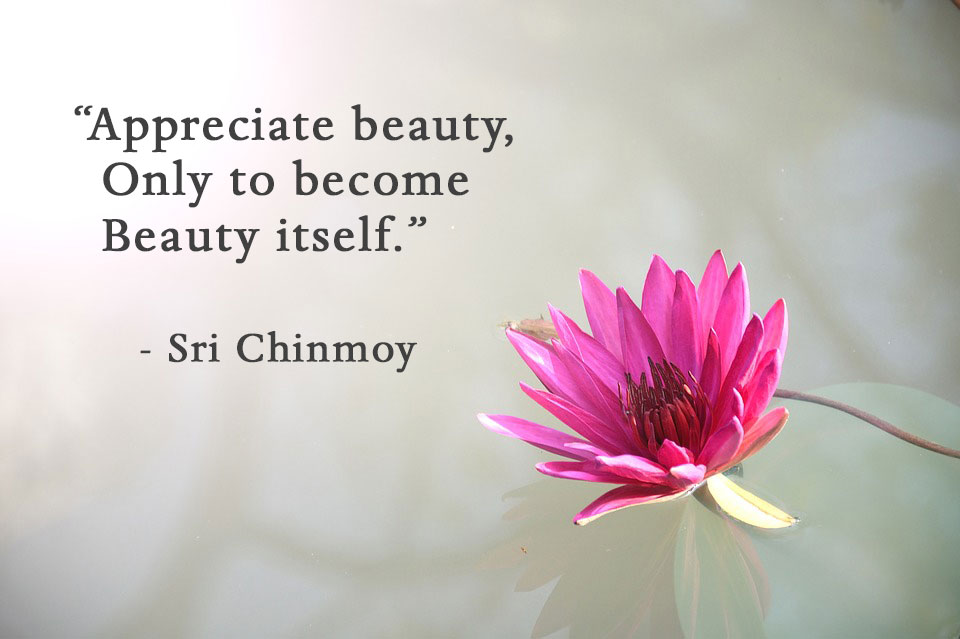 Poems on beauty by Sri Chinmoy
Appreciate beauty,
Only to become
Beauty itself.
Beauty
Is my heart's
Mind-transcendence-hope.
My heart's aspiration-beauty-flames
Are destined to climb
The transcendental Heights
Of the Beyond.
When I look at a child,
He gives me
His soul-beauty-dreams.
Eternity's Beauty
Is in my mind's
Self-control.
Infinity's Beauty
Is in my life's
Transformation-goal.
You are God's Beauty:
Beauty human,
Beauty divine,
Beauty supreme.
This lofty truth shall forever remain unchallenged.
Earth's beauty
Is in its soulfully smiling hope.
Heaven's beauty
Is in its peacefully loving promise.
Power
Frightens us.
Beauty
Enlightens us.
The outer beauty
Dies.
The inner beauty
Prevails.
Love is beauty's
Sweet touch.
Silence transforms
Everything into beauty.
Beautiful, more beautiful,
Most beautiful —
The golden disc in the eastern firmament
Early in the morning!
Tenderness lives with beauty.
Kindness lives in beauty.
Soulfulness houses beauty.
Oneness feeds beauty.
You are beautiful, more beautiful, most beautiful,
Beauty unparalleled in the garden of Eden.
Day and night may Thy image abide
In the very depth of my heart.
Without You my eyes have no vision,
Everything is an illusion, everything is barren.
All around me, within and without,
The melody of tenebrous pangs I hear.
My world is filled with excruciating pangs.
O Lord, O my beautiful Lord,
O my Lord of beauty, in this lifetime
Even for a fleeting second,
May I be blessed with the boon
To see Thy Face.
---
Writing on Beauty
"The poet Keats said, "A thing of beauty is a joy forever." But what is that thing? That thing, from the spiritual point of view, is our soul. The soul is eternally beautiful. God expresses Himself in the physical through beauty, pure beauty, beauty without a blemish. This beauty is not merely skin-deep, but it is in the soul. Here the soul is expressing itself through the physical form." – Sri Chinmoy
References