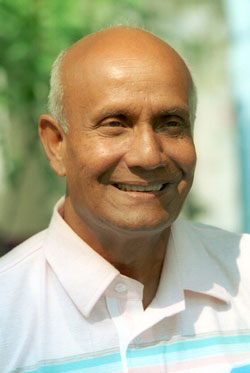 Sri Chinmoy was born in Chittagong, East Bengal (Now Bangladesh) in 1931. From an early age Sri Chinmoy, lived in the Sri Aurobindo Ashram in Pondicherry, South India. Here Sri Chinmoy engaged deeply in meditation and spiritual activities, attaining a state of Self – Realisation, or awareness of one's true divine nature. At the ashram, in addition to meditation, Sri Chinmoy took part in different activities such as sports (in which he excelled) and writing. With the encouragement of Sri Aurobindo and other older members of the ashram, Sri Chinmoy composed many poems in his mother tongue – Bengali. In 1956 he composed his first English poem 'The Golden Flute'.
In 1964 Sri Chinmoy was inspired to travel to America and offer India's spiritual tradition to aspiring seekers in the West. Sri Chinmoy settled in New York and began to offer meditation classes and lectures on spirituality. Over the past 40 years, Sri Chinmoy Centres promoting inner and outer peace, have been formed in over 60 different countries. Sri Chinmoy was also a prolific artist, musician and writer, as well as being very active in sports.
To promote greater oneness and harmony in the world, Sri Chinmoy offered weekly prayers and meditations at the United Nations for 37 years. During his lifetime, Sri Chinmoy met with many world leaders, such as Michael Gorbachev, John Paul II and Mother Teresa; he explained that these meetings inspired one another to carry on their work for world harmony.
Sri Chinmoy is also the founder of the international Sri Chinmoy Marathon Team and the World Harmony Run, a global running relay which seeks to strengthen international friendship and understanding. Sri Chinmoy departed the earthly scene in October 2007, but his poetry and other creations, as well as his peace initiatives, ensure that his legacy will live on to inspire countless seekers of truth and peace in the future.
Poetry of Sri Chinmoy
Throughout his active life, Sri Chinmoy was a prolific writer of poetry. Sri Chinmoy said of poetry:
"…The poet beckons tomorrow's dream-dawn and then transforms tomorrow's dream-dawn into today's reality-day. It is a deplorable mistake we make when we try to understand poetry. Poetry is not to be understood. Poetry is to be felt. Poetry is to be loved. To try to understand a poem is like touching a rose with innumerable thorns. To try to feel a poem is to lovingly hold a rose without a single thorn. And to love a poem is to grow immediately into the beauty and fragrance of the rose itself…" (from: On Poetry)
His earlier and longer poems express a great diversity of experiences a seeker may pass through. For example in the poem 'Between Nothingness and Eternity' Sri Chinmoy identifies with the anguish of a seeker lost in life's battlefield. However Sri Chinmoy's poetry is also characterised by an optimistic view of the possibilities and potential of the human soul. "The Golden Flute" expresses how the seeming turmoils of life can be transformed by the grace of a Higher Power.
Based on his deep inner experiences, Sri Chinmoy offers a glimpse of the higher worlds. He writes in an unique and clear style. For example, in his poem 'The Absolute', he attempts to to express in words the highest spiritual consciousness. It is a consciousness so vast words can not adequately express it. However like a finger pointing to the moon, these poems awaken in ourselves a greater sense of spiritual awareness lifting us out of the mundane and invoking illumining and elevating experiences.
In recent years his poetry has focused on short haiku style aphorisms. These compact poems sink into the heart, providing inspiration and guidance along our spiritual journey. For example: The Goal is Won
Like other great Bhakti poets, many of Sri Chinmoy's poems express a strong devotional aspect. Poems such as " My Lord of Beauty" reflect a seeker's longing and devotion.
Sites about Sri Chinmoy
Sri Chinmoy.org This is the official website of Sri Chinmoy. It includes selections from his writings and resources about the activities and service of Sri Chinmoy.
Sri Chinmoy Library An extensive collection of writings by Sri Chinmoy. It includes books by Sri Chinmoy on many different aspects of spirituality. There are also plays, poetry and story books.
Sri Chinmoy on Poetry
Transcendental poetry at Sri Chinmoy Library
External Resources