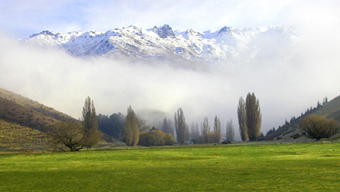 Aphorisms on Aspiration
by: Sri Chinmoy
What am I doing now?
I am proudly enjoying
My aspiration-heart's
Soul-deep dive.
–
Aspiration
Is a very brave step
Into the Unknowable.
–
Aspiration-fire is immediate purification.
It powerfully purifies
The sleeping body,
The strangling vital
And the doubting mind.
–
When I am in my desiring mind,
I offer a very painful prayer to my Lord Supreme.
When I am in my aspiring heart,
My Beloved Supreme blesses me
Not only with a soulful meditation
But also with a fruitful satisfaction.
–
I have starved my desire-thoughts.
Therefore my aspiration-flames
Are climbing up very fast
And are about to touch
The Lotus-Feet of my Beloved Supreme.
–
If you really want
To make your desire-story short
Then start singing immediately
A long aspiration-song.
–
Do not lose your aspiration-heart!
If you lose your aspiration-heart,
Your frustration-mind
Will become larger than the largest.
–
Give your heart aspiration.
This is what your heart needs.
Give your life illumination.
This is what your life deserves.
–
Before I started my aspiration-life
I was a lonely heart.
But now I am
A smiling and dancing world-heart.
–
As the mouth of my desire-life
Frightens me,
Even so,
The eyes of my aspiration-heart
Strengthen me.
–
To realise God
In His transcendental Heights,
Each seeker must have
A very long-range
Aspiration-programme.
–
Aspiration-efforts
Always supply satisfaction-results.
It may take time, at times,
But the results are unmistakably
Sure.
–
Every aspiration-day
Begins with new possibilities.
Every aspiration-day
Ends with new achievements.
–
Today what I have
Is a tiny aspiration-seed.
Tomorrow what I shall have
Is a powerful developed realisation-blossom.
–
Let your aspiration-heart
Be enduring.
Your dedication-life will automatically
Be assuring.
–
How can you lose
In the battlefield of life
If you are already well-acquainted
With the real in you:
Your heart's aspiration-cry?
a
My aspiration,
Like God's Compassion,
Will be eternal, infinite and immortal.
–
No undivine strength,
No hostile force,
No inconscience-monster
Can slow down the fastest speed
Of our aspiration-dedication-boat
That is arriving at the Golden Shore
Of our Beloved Supreme
At His own choice Hour.
–
My confusion-mind tells me
That life is nothing
But a dreadful nightmare.
My aspiration-heart tells me
That life can be
A lovely dream.
Why not let me give a chance
To my self-giving heart?
–
Each aspiration-second
Is a fast God-approaching day.
Indeed,
This is a supreme experience
In a seeker's life.
Aspiration gradually ascends.
But if you value your aspiration,
Then needless to say
It swiftly ascends.
–
An unexpected inner cry
Has turned his life's frustration
Into a most powerful
Aspiration-delight.
–
O world, do not bind me,
Do not blind me!
Just let me return
To my heart's aspiration-home.
a
Aspiration is
A consciously widening opportunity
For golden possibilities.
–
Aspiration
Is our inner urge
To transcend both
The experience and the realisation
Already achieved.
–
A heart of aspiration
And a mind of determination
Receive special
Fondness-Blessings
From God.
–
Do not allow
Your mind's clouds
To hover over
Your heart's aspiration-tree.
–
If you sincerely dig deep within,
Your heart's aspiration-spring
Will not be able
To hide anymore.
–
As long as your heart remains
An ever-mounting aspiration-flame,
It makes no difference
What your weaknesses are.
–
Aspiration leads man
To God-Consciousness.
–
Aspiration is a glowing fire
That secretly and sacredly
Uplifts our Consciousness
And finally liberates us.
–
Aspiration is the endless road
That leads eternally
Toward the ever-transcending Beyond.
a
We feel a desire
To have God on our side.
But we need the aspiration
To throw ourselves on God's side.
–
A life of aspiration
Is a life of peace.
–
A life of aspiration
Is a life of bliss.
–
God can be seen
On the strength of our inner cry,
Which we call aspiration,
The mounting flame within us.
–
When we aspire,
We go far beyond the domain
Of the physical mind
And sit at the Feet of God the Light.
–
Thirst for the Highest
Is aspiration.
–
In aspiration
And nowhere else
Dwells man's  salvation.
–
A sleepless aspiration-heart
Is God's endless Satisfaction-Pride.
–
In order to kindle the flame
Of your aspiration,
Try to feel
That your life is a life of dedication.
–
Aspiration
Is the soul – awakening.
–
In the life of aspiration
Two things are of paramount importance:
Will power and prayer.
–
Aspiration,
In its simplest definition,
Is a lovely flame
Climbing Heavenward.
–
Aspiration is surrender,
And surrender is man's conscious oneness
With God's Will.
–
The life that does not aspire for God-realisation
Is not worth even an empty eggshell.
–
Aspiration from within
Energises the divine in me.
–
Search for the source
Of your smile.
You will see that the source
Is God's own Aspiration-Cry.
More Aphorisms
Links
 (Sri Chinmoy Poetry)       (Selected Poems)      (Poems by Topic)