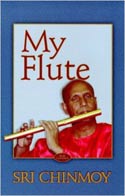 The following is a selection of poems from the collection called My Flute.  In this remarkable collection of poetry, first published in 1972, Sri Chinmoy conveys the whole spectrum of spiritual emotions, from the doubts and fears of the wavering pilgrim to the ecstatic realisations of the illumined Master.  They include Sri Chinmoy's first poem written in English, The Golden Flute.
---
The Golden Flute
A sea of Peace and Joy and Light
Beyond my reach I know.
In me the storm-tossed weeping night
Finds room to rage and flow.
I cry aloud, but all in vain;
I helpless, the earth unkind
What soul of might can share my pain?
Death-dart alone I find.
A raft am I on the sea of Time,
My oars are washed away.
How can I hope to reach the clime
Of God's eternal Day?
But hark! I hear Thy golden Flute,
Its notes bring the Summit down.
Now safe am I, O Absolute!
Gone death, gone night's stark frown!
– Sri Chinmoy
---
Other Selections from My Flute
[columns] [span6]
[/span6][span6]
[/span6][/columns]
All poems taken from 'My Flute' by  Sri Chinmoy
Copyright © Sri Chinmoy 1974