The poetic output of Sri Chinmoy is inexorably linked to his own spirituality and connection with his own inner source or "inner pilot". From a young age, Sri Chinmoy felt an intense inner cry for God and in the Sri Aurobindo Ashram he was able to meditate for several hours a day, attaining a profound state of self-realisation.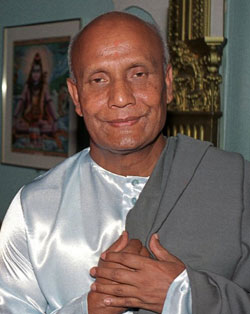 A mystic who travels beyond the domain of the mind often struggles to share his spiritual experiences. In the meditative state of absorption called samadhi, there is immense peace and delight, but this experience is nearly impossible to translate on returning to the worldly consciousness. The mystic thus faces the inherent paradox of putting into words that which is beyond both 'mind and form'. (View: The Absolute) However Sri Chinmoy was able to express his rich spiritual experiences through first poetry, and later songs. His first poems were in his native Bengali, which has a rich tapestry of mystical language and flowing rhythms. Soon after he also began composing poems in English, learning traditional English metre and rhyme.
Sri Chinmoy's early poetry is characterized by a traditional and graceful style. The subjects of the poems touch upon a wide range of spiritual emotions and experiences. These include the ecstasy and beauty of the inner communion with the Divine. However they also involve the struggles and difficulties seekers face as we attempt to transcend the limitations of our minds and human nature. Although such poems seemingly express great helplessness, they also contain a great sweetness and a reassuring comfort that such experiences can be transcended through the grace of the Supreme. The poetry of Sri Chinmoy powerfully affirms that human sufferings and weakness are not the sum of human experience. The lofty utterances of his transcendental poetry is a glimpse and promise of our soul's destined fulfilment.
" No more my heart shall sob or grieve.
My days and nights dissolve in God's own Light.
Above the toil of life my soul
Is a Bird of Fire winging the Infinite. "
– "Revelation" from My Flute by Sri Chinmoy
In his later years Sri Chinmoy evolved another kind of musicality: the flow and focus of his thoughts mostly contained within a brief 3 or 4 line stanza, more like a simple aphorism or haiku style. A recurrent theme in these short poems is the spiritual potency of trusting the heart over the mind. The intellectual mind by nature divides, criticises and judges but nearly always fails to identify with the higher consciousness. It is not that the mind does not have a role to play but the spiritual consciousness we seek can be attained most easily by the heart. The heart by nature is the seat of the soul and can identify easily with the transcendental consciousness. It is therefore perhaps natural that his poetic form develops to reflect his own philosophy. His poems convey spiritual instruction with the minimum of fuss, directly getting to the heart of the matter and avoiding unnecessary mental acrobatics. If we can read these volumes of poetry with a quite mind we can feel our own soul has been feeding us with inspiration and instruction.
'Permit not thoughts
To come from near and far
Let your mind remain
Tranquility's blue star.'
As well being as a noted poet Sri Chinmoy's spirituality manifested in other forms such as music, art, literature and sports. He is an example of the unlimited potential of the human spirit when we are able to be in touch with God, our own Inner Self. Throughout his lifetime, he dedicated himself to the pursuit of world harmony and offering inspiration to those who wish to journey along the path of self discovery. The following poem exemplifies his mission to build a bridge between the inner heaven and the outer world:
Silence
From the Silence Unknowable
To the Sound knowable I came
To play and sing and dance
With a tiny, fragile frame,
And build a rainbow-bridge
Between Heaven and earth
For my sweet Supreme to travel
And flood all-where His Birth.
14 June 1998
Excerpt from Sail My Heartbeat Sail, Part 1 by Sri Chinmoy.
Related Pages
Photos top by Ranjit Swanson
Bottom: Pavitrata Taylor