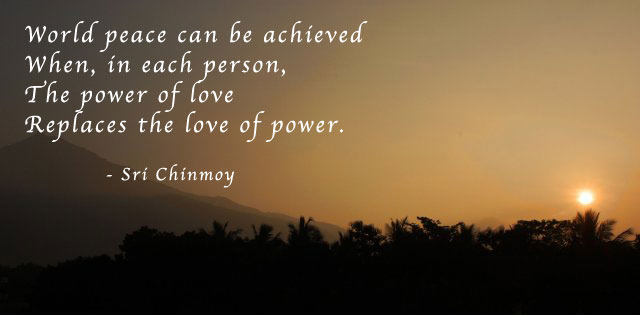 Peace can make me smile even through my multiplying tears.
Peace is a stranger to the rigid mind.
Peace is a guest of the flexible heart.
Good it is, to receive peace from the world.
Better it is, to give peace to the world.
Best, by far the best, it is to become the peace of the world.
If you have inner peace, nobody can force you to be a slave to the outer reality.
Peace is the greatest triumph of my heart's universal oneness.
The real in me longs for peace.
The unreal in me longs for power.
Name-fame-hunger-fascination
Cannot have even a glimpse
Of satisfaction-peace-sea.
My inner peace
Does not select anybody,
Does not reject anybody.
My inner peace
Always self-givingly projects itself.
The heart definitely wants
To make a peace-deal,
But the mind
Vehemently refuses.
I can have immediate peace
If I allow others
To be the rulers of their lives
The way I like to rule
My own life.
If not today,
Then in the distant future,
The voice of peace will conquer
Insurmountable disharmony-obstacles.
God does not allow
My peace-heart
To hear anything
About my doubt-mind.
Oneness
Is peace-sea.
Peace
Is the oneness-bridge
Between my satisfaction
And the world's satisfaction.
Peace
Is not in self-assertive
Foolhardiness.
Peace
Is in God-assertive
All-pervasiveness.
Peace
Is in self-conquest.
The appearance of desire
Nowhere
Is peace.
Possession-greed
Is peace-starvation.
Mind-division-supremacy
Knows no peace.
Peace
Is not in kingdom-wealth.
Heart-multiplication-intimacy
Knows nothing but peace.
I enjoy peace
Only when I am not afraid
Of changing my stubborn mind.
Peace
Is my inner life's only choice.
Peace
Is not world-escape-relief.
Peace
Is world-transformation-belief.
Peace takes birth
Only in oneness-love's abundance.
A moment's peace
Can and shall save the world.
Peace begins when expectation ends.
Expect not! Suspect not! Lo, peace is all yours.
It is only through inner peace that we can have true outer freedom.
All poems by Sri Chinmoy
Related