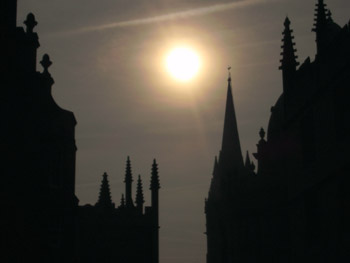 Poems about Confusion
by: Sri Chinmoy
How far is confusion-night from Illumination-light ?
It is as far as man's doubting mind and man's loving heart.
~
You want to escape the confusion
That you see before you.
I tell you, you will never be able
To escape the outer confusion
Unless and until
You have escaped the inner confusion.
And the inner confusion
Is your continuous doubt-indulgence.
~
Confusion-night boasts,
Aspiration-day cries.
Realisation-sun destroys confusion-night
And manifests God-Height
On earth.
~
Attractions,
Repulsions
And
Contradictions
All live in the selfsame
Confusion-cave.
~
If you want to solve
All the confusion-problems
Of your mind,
Then resolve to live
Inside the illumination
Of your heart-sky.
Poems by Sri Chinmoy
Web Source: Sri Chinmoy Library